2019 MSRAL Convention
The Astronomical Society of Kansas City (ASKC) hosted the 2019 Mid-States Region Astronomical League Conference.
Dates: Friday, 6/14/2019 - Sunday, 6/16/2019
Location: Rockhurst University, 1100 Rockhurst Road, Kansas City, MO 64110
Schedule (subject to change -- check back frequently, see map below for locations)

Friday

Noon

Registration opens.


1:30pm-3:30pm

Tour the rare book room of Linda Hall Library for Science, Engineering and Technology. Experience the depository for numerous rare astronomy books and atlases, including original works of Galileo and Copernicus - real "first editions" that you can actually touch and read. Also, see their magnificent collection of early star atlases, read John Herschel's original journal, and see Galileo's hand-written notes in the margin of Sidereus Nuncius, "The Starry Messenger".

The library also is home to the observing logs of famed comet discover, Dr. David Levy.

This exhibit alone is enough reason to come.


5:00pm

Star-B-Que at Timber Creek


7:00pm

Star gazing at Powell Observatory in Louisburg, Kansas using the Ruisinger 30-inch telescope and a collection of other instruments


Saturday

7:00am

Registration opens

7:15am-9:00am

Breakfast

8:15am-9:15am


MSRAL business meeting

9:30am-10:15am

"Observable Scale Universe" Extensive models and LED lights are used to demonstrate and compare key distance scales in the observable universe. The talk culminates with and examination of the size of human beings in relation to doublings of scale between the Planck length and the cosmic particle horizon. (Chuck Allen)

10:30am-11:15am

On July 20, 1969, three American astronauts took part in a mission in an Apollo spacecraft that landed them on the moon. "Taking Part in the Next Giant Leap" will explore connections between the Apollo era and space exploration today. (Nathan Meyer)

11:30am

Group photo

11:45am-1:15pm

Lunch

1:30pm-2:30pm

DayStar Filters (Jen Winter)

2:45pm-3:45pm

Light pollution and the International Dark Sky Association (Don Ficken, Jackie Beucher and Bruce McMath)

4:00pm-4:45pm

Experiences aboard NASA's Stratospheric Observatory for Infrared Astronomy (SOFIA), and a fun introduction and discussion on infrared astronomy (Lario Yerino)


6:30pm

Banquet including MSRAL Amateur of the Year Award and Keynote talk (Calen Henderson)

Sunday

8:00am-9:00am

Breakfast

9:15am-10:00am

Fallacies of Astronomy (Jackie Beucher)

10:15am-11:00am

The Quest for Ultima Thule (Chuck Allen)

11:15am-12:00pm

Ins and Outs of Stellarium (Doug Wagers)


1:00pm-2:00pm

Special docent-led tour at the nearby world-famous Nelson-Atkins Museum of Art, featuring selected works of astronomical interest
Speakers
Chuck Allen is former President of the Astronomical League.
Jackie Beucher is Vice-President of the Astronomical Society of Kansas City, and Vice-President of the Missouri Chapter of the International Dark Sky Association.

Don Ficken is President of the newly-formed Missouri Chapter of the International Dark Sky Association.
Calen Henderson is a NASA Exoplanet Archive scientist. Calen helps curate the premier online database for exoplanet data and analysis resources. At night, he specializes in using gravitational microlensing to detect and characterize exoplanets, by using the Spitzer and K2 space telescopes.
Nathan Meyer is Vice-President of Strategy and Product Innovation at Cosmosphere, Hutchinson, Kansas.
Doug Wagers is an accomplished astrophotographer and Astronomical Society of Kansas City Board Member.
Jen Winter is President of DayStar Filters. DayStar manufactures ultra-narrow bandpass filters for astronomical use.
Lario Yerino is a retired high school chemistry and physics teacher. He has Ph.D. from Texas A&M University. In 2016 Lario was accepted into a program for teachers through NASA SOFIA. He spent a week in Palmdale, CA where he was permitted to do two night flights on SOFIA.

Astronomy Artwork and Photography Contest
New this year, MSRAL will sponsor an Astronomy Artwork and Photography Contest, open to all convention attendees. Any visual art media will be accepted. The catagories are:
MILKY WAY: Objects in the Milky Way
SOLAR SYSTEM: Sun, Moon, and the planets
DEEP SPACE: Objects outside the Milky Way
Attendees will vote for their favorite in each category. Entries must be submitted at the Registration Desk on Friday, June 14, by 4:00 P.M., or Saturday, June 15, by 11:00 A.M., in order to be eligible. All first place winners will receive special recognition.
Meals
The convention is offering the following meal options. You may choose whichever meals you want or obtain food on your own.
Friday Night
Star-B-Que (all you can eat buffet)
Brisket, pulled pork, smoked chicken

Creamy coleslaw

House salad

Mashed potatoes and gravy

Fresh green beans

Dinner rolls and butter

Dessert

Price includes 20% gratuity

Cash (only) bar
Saturday
Breakfast
Box Lunch
Banquet
Sunday
Breakfast
Attire
Convention t-shirts are being offered. Please see the registration form for sizes and pricing.
Registration Details

We offer a discounted registration rate for students to encourage their attendance and participation.

Discounted Hotel Options

Holiday Inn Country Club Plaza
1 E 45 St, Kansas City, MO 64111
816.753.7400
Distance from RU: 1.1 miles
Single Rate: $144 Group Rate: $129

Days Inn By Wyndham Kansas City
5100 E Linwood Blvd, Kansas City, MO 64128
816.787.1045
Distance from RU: 3.7 miles
Single Rate: $82 Group Rate: $79.99

La Quinta Inn & Suites Overland Park
10610 Marty St, Overland Park, KS 66212
913.648.5555
Distance from RU: 8.5 miles
Single Rate: $107 Group Rate: $102


Housing is also being offered by Rockhurst University. See the registration form for details.
Questions: This email address is being protected from spambots. You need JavaScript enabled to view it.
Special thanks to the following for their donations: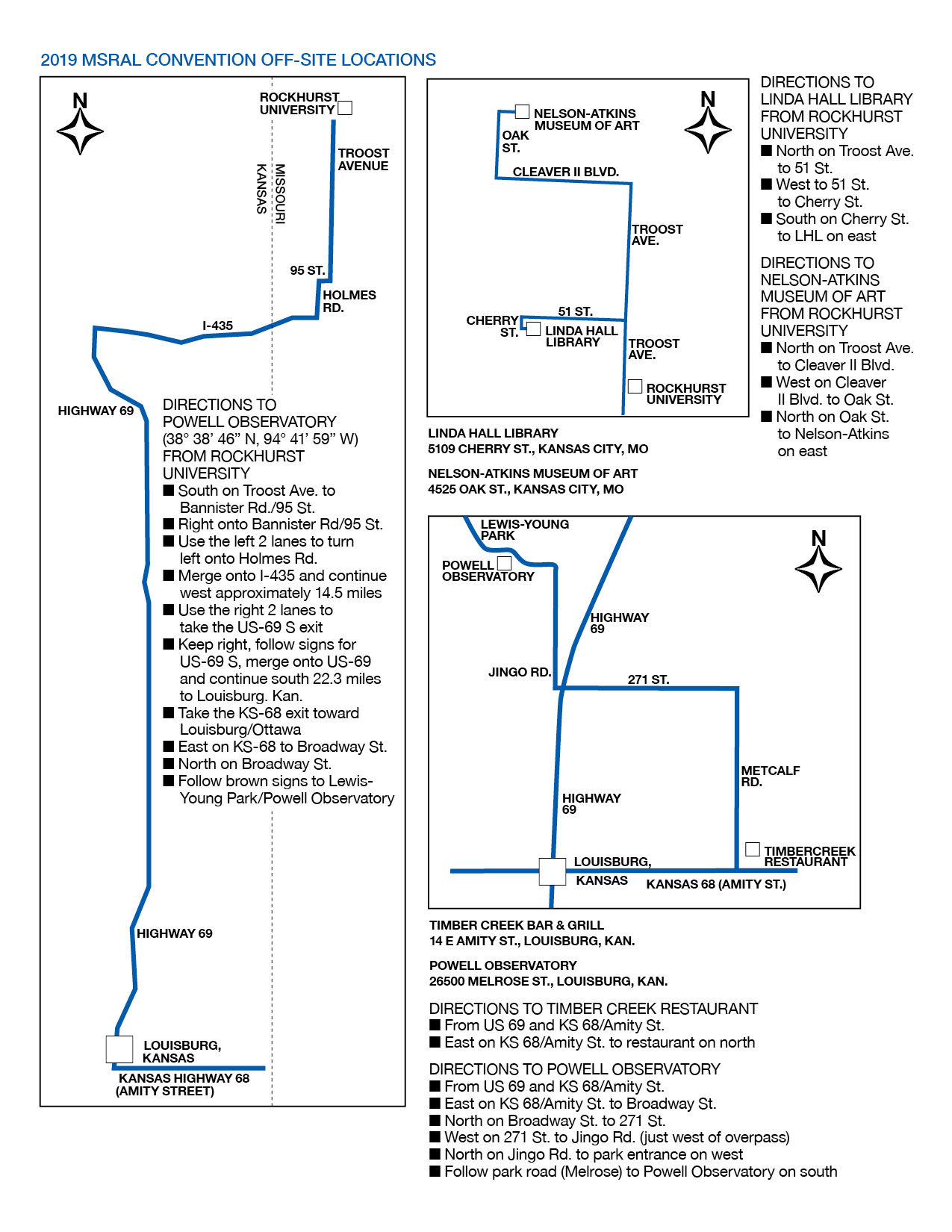 Rockhurst Vicinity Map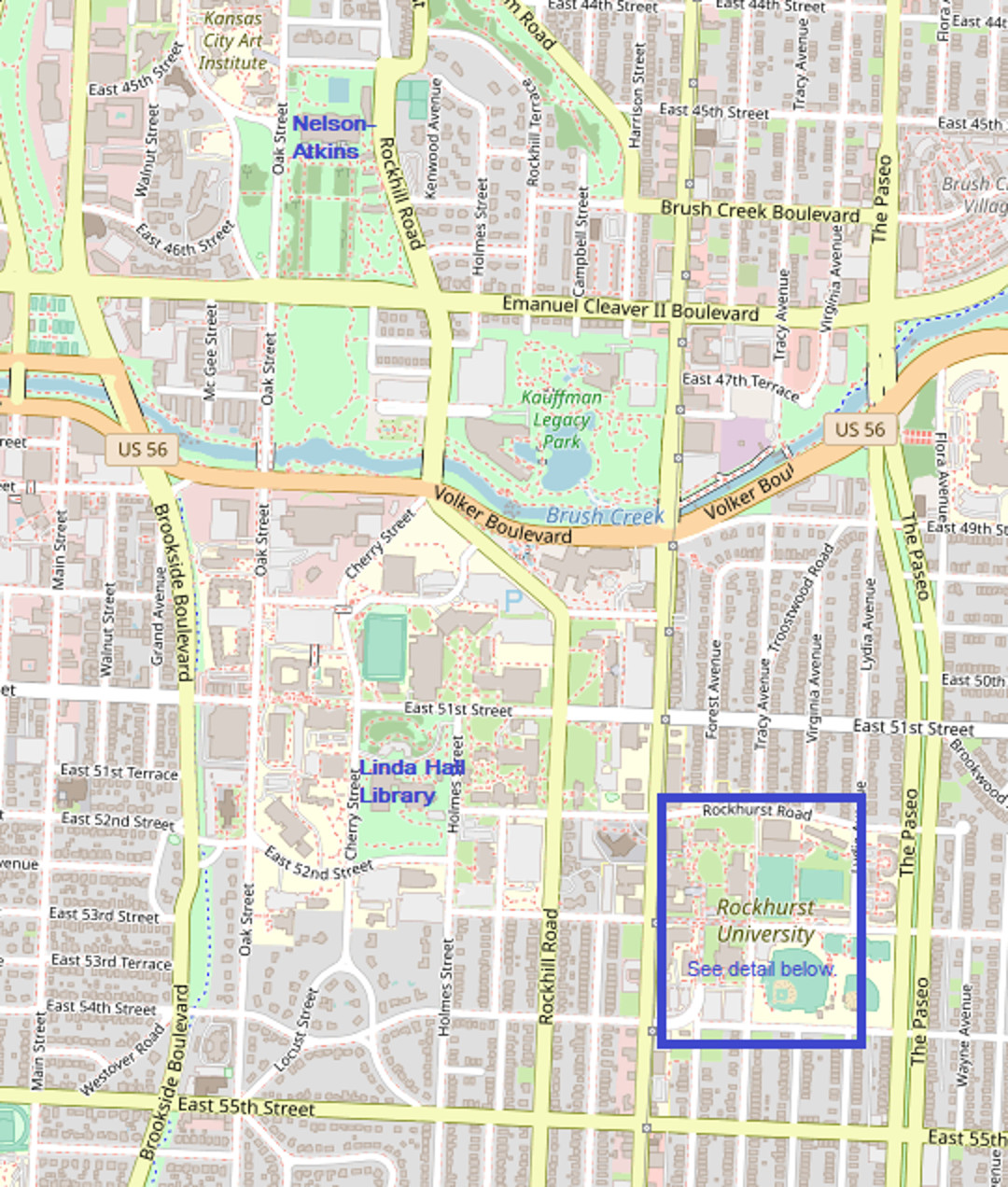 Rockhurst Campus Map
All campus parking is open for use by conference attendees.