General Meetings
Announcement:
Due to the measures and guidelines set forth by local, state and federal government agencies, we are temporarily suspending all ASKC meetings, offsite events and events at Powell Observatory.
January General Meeting (Zoom Webinar)
The January ASKC General Meeting will be held via a Zoom Webinar and will be viewable on the ASKC Facebook Page. The meeting will start at 7:00 PM CST, Saturday, January 23rd. Please note that the Zoom webinar is limited to the first 100 attendees that register.
The featured speaker for the Jan. 23, 2021, Astronomical Society of Kansas City's General Meeting will be Christopher N. Shingledecker, Ph.D., Assistant Professor of Physics and Astronomy at Benedictine College in Atchison, Kan. Prior to coming to Benedictine College, Shingledecker was an Alexander von Humboldt Foundation postdoctoral research fellow in Germany, with appointments at both the Max Planck Institute for Extraterrestrial Physics in Munich and the University of Stuttgart.
His presentation is titled "A Tour of the Molecular Universe." He will tell us that to date, more than 200 different molecular species have been detected
in the interstellar medium (ISM). These species range from the very simple, such as molecular hydrogen (H2), to the more complex, such as C60 (buckminsterfullerene), the aromatic molecule benzonitrile, and perhaps even biochemical monomers like amino acids. In this talk, he will present an overview of our current knowledge of this molecular universe, and discuss both how these molecules might have formed under extreme astrophysical conditions, and what these species can tell us about the ISM, planet formation, and the origin of life.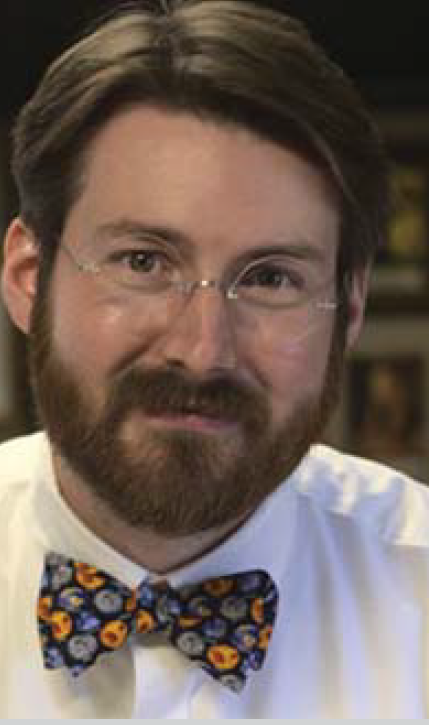 Shingledecker
Non-members are welcome to watch the meeting and presentation via Facebook by going to the Astronomical Society of Kansas City's Facebook page where you should be able to join the LiveStream at 7:00 PM or later. We do not currently have the means to accept questions from viewers via Facebook at this time.
The meeting format will be very close to the usual live meeting. We will continue to use the webinar format until the time comes when we can all safely meet together again at Royall Hall.
Next Meeting
The next General Meeting will be held at 7:00 PM CDT on February 27th, 2021. We anticipate this will be virtual meeting as well. Please check back for updates.