General Meetings
Announcement:
Due to the measures and guidelines set forth by local, state and federal government agencies, we are temporarily suspending all ASKC meetings, offsite events and events at Powell Observatory.
April General Meeting (Zoom Webinar)
The featured speaker on April 24, 2021, is Dr. Tim Hunter, an amateur astronomer and professor of radiology and orthopaedic surgery at the University of Arizona, Tucson. He is a prime example of a hobby that ran amok.
In addition to his medical degree, he holds a Master's degree in Astronomy, has won several astronomy awards, is a member of the Planetary Science Institute Board of Trustees, and is a past chairman of the Western Region of the Astronomical League. Additionally, in the late 1980s, he and Dr. David Crawford founded the International Dark-Sky Association, which is devoted to promoting quality outdoor lighting and combating the eff ects of light pollution. IDA now has thousands of members world wide.
His presentation, "Theft of the Night—Fighting Light Pollution with IDA and Remote Observatory Operation: Or What Can Go Wrong with Your Observatory" will tell us a bit about the IDA plus the trials and tribulations of operating an observatory remotely.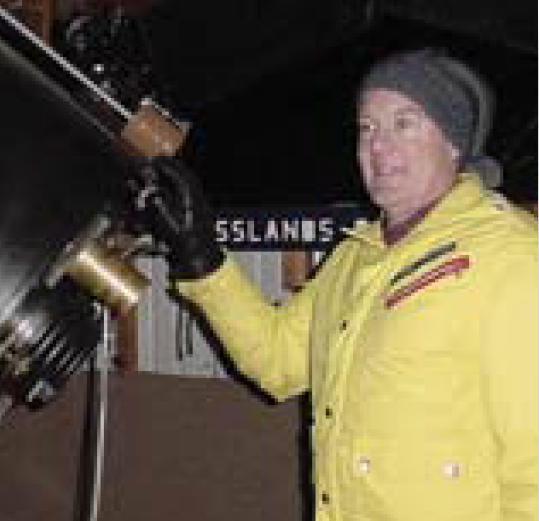 Hunter
Non-members are welcome to watch the meeting and presentation via Facebook by going to the Astronomical Society of Kansas City's Facebook page where you should be able to join the LiveStream at 7:00 PM or later. We do not currently have the means to accept questions from viewers via Facebook at this time.
The meeting format will be very close to the usual live meeting. We will continue to use the webinar format until the time comes when we can all safely meet together again at Royall Hall.
Next Meeting
The next General Meeting will be held at 7:00 PM CDT on May 22nd, 2021. We anticipate this will be virtual meeting as well. Please check back for updates.