2021 Public Season
COVID-concious Public Season begins May 1 at Powell Observatory. We'll be taking baby steps toward full activities as more people get fully vaccinated and the infection rate (hopefully) drops. Initially, we will open the first and third Saturdays of the month. All activities will be outside with images from the Rusinger shown remotely on a large screen on the fence. Social distancing and mask requirements will be in place.
Bring your own lawn chair and/or blanket.

The field has been treated for mosquitoes but there may still be a few around so bring your own repellant if desired.
Programs will proceed clear or cloudy.

Rain will result in cancellation.

Check facebook.com/astronomykc for the latest updates.


2nd Saturday Astronomy Programs
Powell Observatory Public Night Teams will also be presenting programs on various astronomy topics by live streaming them on our ASKC Facbook page. The programs will last approximately 30 minutes and will allow viewers to post questions and hear answers via Facebook at the end of the presentation. Check back frequently for the latest schedule updates.

The public is also invited to view our general meeting presentations on Facebook starting at 7:00 PM on the fourth Saturday of every month.
Program Schedule for 2021
All events start at 7:00 PM CT.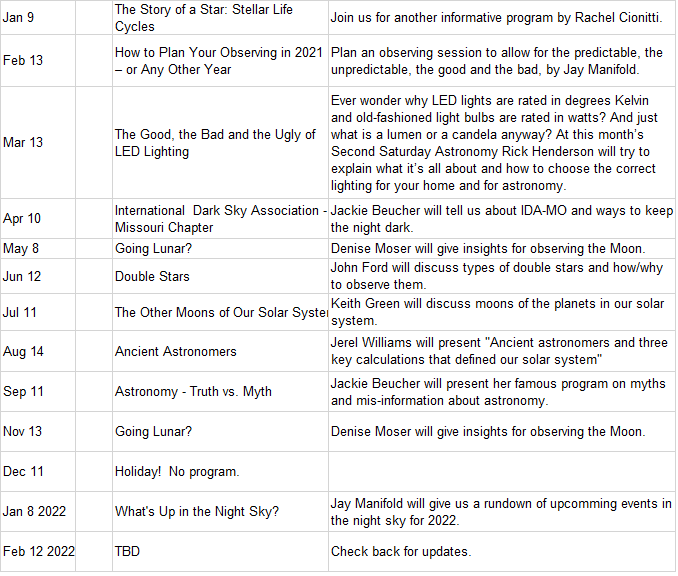 Powell Observatory is owned and operated by the Astronomical Society of Kansas City and staffed by volunteer ASKC members.
Public Nights
Under Public Nights the text needs to be changed. The observatory is open to the public on the first and third Saturday nights, May through October and for special astronomical events. Public programs include an educational presentation on an interesting astronomy topic. All activities are outside and proceed clear or cloudy. Rain will cancel the evening. Check facebook.com/astronomykc for the latest updates.

Requested Donation: 12 & Over: $8 | 5-11: $5 | Under 5: Free
Because the observatory is staffed by volunteers, we request a donation upon entry to help maintain and operate the observatory.
Private Events
Email [email protected] or call 913.438.3825. A reservation fee of $100 + $5 per person is required to reserve the observatory for private events.
About the Observatory
Built in 1984 by society members, the observatory is located about 25 miles South of Kansas City in Lewis-Young Park, just North of Louisburg, KS. At this location, skies are much darker than in the city. The observatory has one of the largest telescopes open to the public in a five-state area - the Ruisinger Telescope, a Newtonian reflector with a 30" diameter mirror. In addition, the observatory has other telescopes available for public viewing.
Etiquette
No white lights (headlights, flashlights, mobile phones, etc.) are allowed at the observatory. Red flashlights are allowed. Please dim your headlights when approaching and leaving the observatory.

26500 Melrose Street
Louisburg, KS 66053